AN INTRODUCTION TO TEAM CHESS


Team chess is a new variation of one of the oldest games in the world. It is played basically the same as traditional chess, with only a few modifications of the basic rules.

As you can imagine, Team Chess requires a few different strategies added on to the original approach. It requires a team effort if one team is going to achieve a double checkmate of the opposing team's Kings.


WHAT'S INCLUDED IN THIS PACKAGE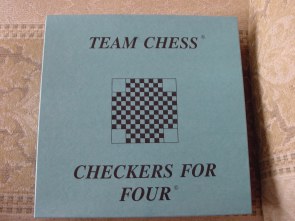 2 complete chess sets. 64 chess pieces to compose 2 complete chess teams. 2 complete checkers sets to compose 4 opponents, one multi-use, quad-fold gameboard (can be used for traditional chess and checkers,) one team chess instruction manual, and one checkers for four instruction manual.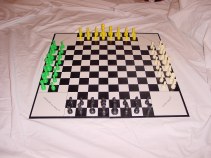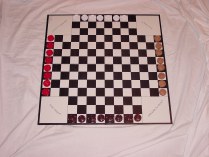 HOW TO ORDER!


Team Chess and Checkers For Four is available now for $24.95+$5.00 shipping and handling(US currency only, and shipped to the continental United States only.) Orders are shipped UPS ground. Please allow 3-4 weeks delivery. UPS tracking is available by request. PLEASE INCLUDE PHONE NUMBER WITH ORDER!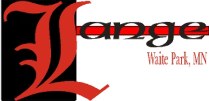 Lange

208 11th Ave. N.

Waite Park, MN 56387

Bus: (320) 251-7914